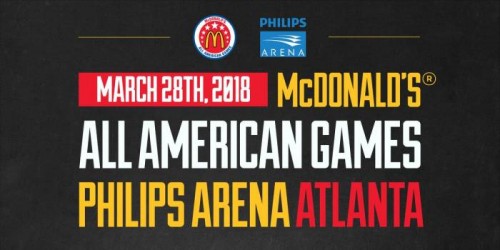 The 41st Annual Games will be the third hosted by Atlanta and first since 1992!
McDonald's has named Atlanta as the host city for the 2018 McDonald's All American Games. The 2018 Games will be played on March 28, 2018 at Philips Arena, home the Atlanta Hawks. The city previously hosted the 1983 and 1992 Boys Games.
For years, Georgia has been a powerhouse for high school basketball talent. Since 1977, 41 McDonald's All American Boys and 18 McDonald's All American Girls players have hailed from the state. This includes 2017 Morgan Wootten Player the Year winner, Wendell Carter, Jr. and other Games alumni including: Jaylen Brown (2015), Maya Moore (2007), Dwight Howard (2004), Shareef Abdur-Rahim (1995), and Pervis Ellison (1985).
"On behalf the Atlanta Hawks, Philips Arena and the great city Atlanta, we're proud to host the 2018 McDonald's All American Games and are excited they are returning to a region the country with such a storied legacy basketball," said Dominique Wilkins, Vice President Basketball for the Atlanta Hawks and a 1979 McDonald's All American. "Having spent much my life playing and living here, I know the city and fans will enjoy hosting this event and seeing the next great crop basketball talent."
The move follows a successful run the All American Games in Chicago. In 2011, the Games returned to Chicago which hosted the event for seven consecutive years, culminating in the 40th annual Games in 2017. Over that time, more than 100,000 fans attended the Games in Chicago witnessing the top high school talent, including six future NBA number one draft picks.
Prior to the extended stay in Chicago, the annual Games previously took place in different cities each year.
"We're thrilled to partner with the city Atlanta and the Philips Arena to bring the McDonald's All American Games back to the state Georgia," said Morgan Wootten Hall–Fame basketball coach and McDonald's All American Games Selection Committee Chairman. "We're equally grateful to the city Chicago and our local partners that helped make the Games a great success for the past seven years and we can't wait to bring our annual Games to another passionate basketball fan-base in Atlanta."
Since the Games' inception, more than 1,300 players have been named McDonald's All Americans. They form an elite group some the top names in basketball history, including Magic Johnson, Michael Jordan, Grant Hill, Kobe Bryant, LeBron James, Anthony Davis, James Harden, Candace Parker, Maya Moore, Elena Delle Donne and Breanna Stewart.
The 2018 McDonald's All American Games Girls Game will air on ESPN2 with the Boys Game immediately following on ESPN. Exact broadcast times will be shared at a later date. Stay tuned to HHS1987. Follow @eldorado2452 on Twitter and Instagram for all your sports news.